Best Dog Carrier Slings of 2022
Dog lovers know that they are not just beloved pets, but they are members of the family. They accompany us to stores, parks, and vacations. Some lucky owners even get to bring their dogs to work or social events. However, just like children, dogs can get exhausted keeping up with a busy day out and about. So, to keep your dog happy and as comfortable as possible during your outings, offer it the best joint supplements to boost health. You also need the best leash to control its movement, and the best dog carrier slings to transport it comfortably from one place to another.
Which are the best dog carrier slings in 2022? The type and model you order depend on the size or breed of your dog. It also depends on your budget and the look that you want to achieve while exploring outdoors.
Our Recommended Dog Carrier Slings | 2022 Reviews
10. PocoPet Packable Small Dog Carrier Slings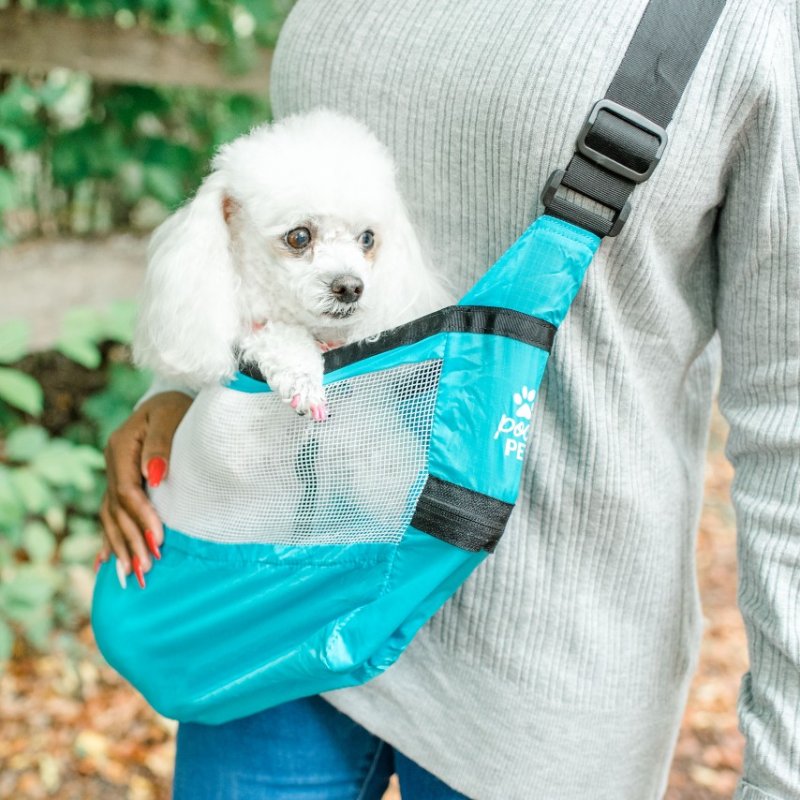 Perfect for your precious pooch, these dog carrier slings from PocoPet allow you to take your fur baby anywhere dogs are allowed. Like having a newborn baby, you can't leave your small dog in a hot car while you quickly pop into a store. Or what about those walks on hot summer days when those little paws get tired of walking on burning pavement? That's when this dog carrier sling for small pets comes in handy.
Built out of durable, ripstop nylon fabric, this bag can stand up to heavy use and sharp claws without tearing. For pets up to 15 pounds and 12 inches (chest to rear), this carrier can make toting your small dog around enjoyable. Coming in black or bright blue, each sling has a mesh ventilation panel to prevent overheating, along with an internal safety harness clip to prevent your pup from jumping 0ut.
For your convenience, there is an exterior storage pocket, an adjustable shoulder strap (24″-48″), and an attached carabiner to easily clip to the leash. It's also super lightweight and it folds into a useful carrying pouch when not in use. This on-the-go tote can fit easily into a purse or car pouch. This compact carrier comes with everything you need, but if you want to add accessories, you have the choice to purchase (separately) a strap cushion and/or a fleece liner for cold, winter days.
9. Precious Cargo Pet Carrier Slings
To get a multi-position dog carrier that you can use to carry your pup safely, check out the Precious Cargo sling. It is one of the safest, most comfortable, and durable designs online, which make it beneficial to people with small dog breeds. Its multi-position design sits well on your back, chest, and hip without irritation. The head opening is large and has a mesh cladding that keeps the interior of the sling cool, dry, and comfortable. For support, the bag has a floorboard that your pet can sit on for long hours without making its joints sore.
Precious Cargo has a load limit of 15 pounds. Its material is easy to clean, while its diverse pockets come in handy when you are on the road. You get ample space for a leash or dog treats. The zippered pockets can also fit waste bags or dog goggles, which are common pet items as well.
What We Like
Zippered pockets
Comfortable material
Sturdy floorboard
Supports 15 pounds
Elegant design
Highlights
Precious Cargo is a spacious and breathable dog carrier sling that supports 15 pounds. Its wide opening offers people easy access to dogs. You can also wear it on the back, chest, or hip.
8. Perritos Sling Carriers for Small Dogs
Perritos is an appealing sling carrier for dogs that comes in stunning colors. As such, dog owners who want to stand out while commuting with their dogs should consider ordering this brand. It fits and supports small dog breeds weighing up to 10 pounds. Also, because it is nylon, the bag is water resistant and protective.
Whether you are short or tall, you will appreciate the value of this sling bag's versatility. The weather resistant polyester strap is durable, comfortable, and adjustable to fit most people. The interior of the bag is dog safe and has a built in restraint that prevents your dog from jumping out of the bag.
What We Like
Adjustable strap (polyester)
Durable nylon bag
Built in dog restraint
Holds up to 10 pounds
Appealing design
Highlights
Perritos is a fun sling carrier for small dogs with a built in restraint for safety. It is waterproof, durable, and can support up to 10 pounds. The interior is smooth and dog safe.
7. AOFOOK Dog Cat Sling Carriers
AOFOOK is a multipurpose sling carrier for cats and dogs with a padded and comfortable shoulder strap. If you own a large dog (10-20 pounds) that you travel with often, add this sling bag to your arsenal. By spreading weight over a large area, it enables you to carry heavier dogs without irritation. You can also adjust the length of the carrier to fit different body types.
With AOFOOK, you get ample storage space for your phone, keys, and items such as leashes. The area is large and has zippered access that prevents loss of items while the bag is in use outdoors. Your dog will feel safe and comfortable in this sling carry bag. The interior has a smooth structure that gently hugs your pet while being carried. It also offers extra support to the feet and joints, and has a stylish checkered design. You can clean the bag easily when dirty.
What We Like
Supports 10-20 pounds
Stylish, checkered design
Breathable oxford cloth
Thick padded strap
Highlights
AOFOOK is durable, stylish, and able to support 10-20 pounds without damage. It is comfortable and very protective.
6. Alfie Pet – Hayden Pet Sling Carriers
Your pet will enjoy spending time in an Alfie Pet – Hayden pet sling carrier, as it is one of the most comfortable brands on our list. It measures 14x6x11 inches, making it suitable for carrying small to medium sized dogs. The shoulder strap is long (27 inches), durable, and has a snap-on clasp that is easy to use. Wearing and removing the sling takes a few seconds, which makes it incredibly convenient.
Dogs feel comfortable seated, standing, and sleeping in this sling carrier for two main reasons. Its hard bottom, for one, is supportive without irritating dogs. It also has a ventilated design with claw-proof mesh inserts that keep its interior cool. Even in summer, you can carry a pet in it without overheating.
What We Like
Ventilated design
Snap-on clasp (27 inches)
Sturdy bottom
Mesh side pockets
Highlights
The Alfie Pet – Hayden is stylish, breathable, and has a sturdy bottom that offers a comfortable resting area. Mesh pockets offer ample storage space, while its long strap fits most people.
5. SlowTon Hand Free Puppy Cat Carry Bags
The SlowTon carry bag is ideal for a toy breed of dog or a cat that can travel with you. The drawstring opening eases the loading and retrieval of pets. It also covers your dog starting at its neck to keep dogs warm and comfortable. Finally, it acts as a safety system for dogs, as it prevents them from jumping out while in transit. You will love this sling bag.
SlowTon is an excellent choice for pet owners as it is comfortable to carry. The sling has a padded design that will not dig into the skin. It fits most people (17.2-35.42 inches) and supports up to 9 pounds without snapping. Finally, you get zippered pockets for wallets, treats, cellphones, keys, or waste bags.
What We Like
Zippered pockets
Machine washable
Padded shoulder strap
Breathable cotton
Multifunctional design
Highlights
SlowTon has a portable and irritant-free design made from breathable cotton. It is comfortable and low maintenance with a machine washable design that users love. It has a secure bottom pad and a strap that fits most people.
4. YUDODO Pet Dog Sling Carriers
YUDODO is a recommended product for individuals with small dog breeds weighing up to 10 pounds. If you have a cat that needs to be secured, it is a beneficial item as well. Which major features have made it a standout product online? The adjustable strap (38.6-46.5 inches) fits most individuals. Whether you are petite or tall, you will never struggle to carry this sling bag. It also has a padded design that does not dig into nor irritate the skin as some models can.
The breathable mesh material is safe for small pets as well. It keeps your small dog warmer in winter, and it allows fresh air during the hotter summer months. It is also light and, therefore, ideal for traveling long distances.
What We Like
Breathable mesh
Support 10 pounds
Adjustable strap
Hands free design
Safe for most small breeds
Highlights
If you have a dog that weighs 10 pounds or less, this breathable mesh bag will serve you well. The strap supports heavy loads without snapping. It is also cool and fits most toy breeds of dogs.
3. Puppy Eyes Waterproof Pet Carrier Slings
Every dog needs a comfortable doghouse for resting while at home. However, if you travel with your dog often, the water resistant Puppy Eyes pet carrier sling will add convenience. The thick cotton fabric used to make it can support 10 pounds without ripping. It is also smooth, warm, and has as hand wash design that is easy to clean when dirty. Although professional-grade, Puppy Eyes is a cost effective solution without sacrificing quality.
With Puppy Eyes, accessories such as keys will be within reach, as the tote has a large, zippered front pocket. You can store dog treats or a leash without running out of space. The safety mesh on the bag is a nice touch as well. It secures dogs, preventing them from jumping out of the carrier.
What We Like
Soft and comfortable
Safety mesh layer
Zippered front pocket
Supports 10 pounds
Highlights
Your 10 pound dog will stay safe and comfortable in a Puppy Eyes sling carrier due to its unique, natural fabric. It is durable, easy to clean, and has a pocket for your important stuff.
2. TOMKAS Small Dog Cat Carrier Slings
TOMKAS has a timeless design that will attract a lot of positive attention while exploring the outdoors with your pet. Also, your pet will have a fun time spending time in one, as it is spacious and comfortable. Overall, its 23.6×10.5 inch design can support dogs weighing up to 10 pounds. The cotton fabric used to make it has a soft structure, while its adjustable strap fits individuals measuring between 5'2" and 5'7 inches tall.
TOMKAS dog carrier slings come in several stunning colors for men and women. Each one has a ring for securing a collar or harness and a zippered pocket for storing personal items such as ID cards, keys, or phone. The zippers are waterproof, making it free of potential rust.
What We Like
Comfortable (cotton)
Supports up to 10 pounds
Zippered pocket
Fits most people
Highlights
TOMKAS is secure, comfortable, and one of the best brands for carrying small dog breeds that weigh up to 10 pounds. The zippered pocket offers ample storage space for ID cards and phones, while its padded sling is durable and comfortable.
1. Jekeno Small Dog Sling Cat Carriers
Pet enthusiasts desire everything about the Jekeno dog sling carrier. Whether your priorities are for a stylish carrier or a secure model for your pet, this one will not let you down. The soft cotton fabric used to make it has good breathability. Even in summer, dogs stay cool and comfortable in it. It also has a lined interior (chiffon) that cradles dogs comfortably without pulling fur or irritating joints. Dogs can sleep in it issue-free.
If you are conscious about style, Jekeno comes in three exciting patterns for men, women, and teens. It is fade proof and has secure parts, which include steel buckles and a 92 cm adjustable shoulder strap. Its machine washable design supports up to 13 pounds.
What We Like
Adjustable shoulder strap
Lined interior (chiffon)
Breathable cotton
Secure buckles
Supports up to 13 pounds
Highlights
Jekeno makes heavy duty cotton dog carrier slings for small dogs that can support up to 13 pounds. They are comfortable, breathable, and come in three fun patterns, each radiant and fade-proof.