Best ATVs for Older Kids in 2022
Some parents may think that children and ATVs don't mix, but when you consider the amount of fresh air and exercise that your children will get when riding one of these vehicles, the benefits far exceed the risks. These days, ATVs for older kids are safer than ever, and with the proper head protection and a few safety protocols, kids can spend all afternoon outside rather than staring at a screen indoors!
For children 8 years or older, an ATV makes a great gift. Children have loads of energy they need to exert, and this is one avenue where they can safely do so. Besides, the four wheeled design of these toys is often safer than two wheeled bicycles. Now, with a multitude of designs and colors, these tough toys are no longer just for the boys! Check out our recommended ATVs for kids below!
For children younger than 8 years old, check out the best powered ride-on trucks.
Our Recommended ATVs for Older Kids | 2022 Reviews
1.
X-PRO Thunder 125cc ATV Quad Youth 4 wheeler ATVs for Kids
If you have a girl in your home that wants to hang with the boys but still look stylish doing it, then consider buying her this 125cc ATV Quad from X-PRO. The pink highlights will delight the feminine side of a child, while the rugged vehicle in action will appease any daredevil lurking within. This child's ATV comes with an automatic transmission with reverse gear, along with 18″ (rear) and 19″ (front) tires. Weight limit is up to 198 pounds.
You'll also find LED headlights and tail lights to enhance safe riding during dusk and dawn hours. Plus, what good in an ATV if you can't clear the tough terrain?! That's why this one sits off the ground with a smooth undercarriage at 4.7 inches clearance, so your son or daughter can tackle those trails with ease. Not only will this ATV clear the ground, but it can do so at 6.1 KW horsepower with its Zongshen Brand engine: that's 10% more powerful than most other 125cc ATVs! Finally, the 29.9 inch seat provides ample room for a cushy ride, no matter how bumpy the landings are.
With every order, you not only get this upgraded ATV for older kids, but every package includes handgrips, goggles, and X-Pro gloves! The only extra you need to get is a helmet before your child can take off for the afternoon. Keep in mind that assembly is required before riding. Either have a professional do it, or have it checked by a professional once completed by an adult.
What We Like
Pink details
High clearance
Reverse gear
Upgraded engine
Highlights
The X-Pro Thunder ATV for kids is one of the best due to its performance and included upgrades. It comes with a 10% more powerful engine than similar products, plus it has a high clearance with smooth undercarriage. Included accessories are gloves, goggles, and handgrips. The pink details make this an excellent choice for either gender.
2.
Razor Dirt Quad 500 – 36V Electric 4-Wheeler ATV for Teens and Adults 

When your child has mastered the smaller ATVs and is ready for more of an adventure, then the Razor Dirt Quad 500 is the perfect next choice. Made for ages 14 and up, this ATV for teens and adults can handle a larger weight limit (220 pounds) with more seat and leg room than others. Measuring 50.4″ L x 28.7″ W x 31.9″ H, but weighing only 113 pounds, this machine can traverse most rugged terrain.
With up to 68 minutes of battery use without the need to recharge, you and your family can get your thrills without the hassle of constantly having to take breaks. Not only does the battery last over an hour, but you'll be in total comfort during that ride using the twist-grip throttle control, front brush bar, and rear suspension. Not to mention the rear disc brake, adjustable riser handlebars, and soft rubber grips. All these features lend this ride to be one of the best ATVs in the market.
What We Like
500 watt motor
Lengthy battery (36V) time
Ages 14+
36V rechargeable battery
Highlights
This ATV for teens and adults will have you on rugged dirt paths immediately after school or work. The 220 pound weight limit allows for older kids' use while the long-lasting, rechargeable battery keeps you riding for longer. A steel, powder-coated body and multiple comfort features let you ride this ATV in all weather conditions.
3.
Razor Dirt Quad – 24V Electric 4-Wheeler ATVs for Kids
When your 8 year old starts begging you for an ATV, you no longer have to wait until he's 12 to make him happy. These ATVs for older kids, made by Razor, are appropriate for as young as 8 years old! The maximum speed this vehicle reaches is 8 miles per hour, while the weight capacity is 120 pounds. Of course, each child is different, but with smart choices, your child will be safe riding this vehicle and still feel like he/she is on a thrilling adventure.
Measurements run 43″ L x 24″ W x 31″ H, so keep that in mind when comparing the size of the vehicle to the size of your child. If you find them compatible, then your offspring will be riding in style for up to 40 minutes before you have to recharge the battery. You'll find this to be a favorite toy even in the rain, and with a powder coated frame, the wet weather won't cause any damage.
Some assembly is required, but once you have this ATV put together, you'll find shatter-resistant plastic fairings, a front brush bar, a rear carry handle, adjustable riser handlebars, and 13 inch pneumatic knobby tires. We all know children grow as fast as weeds, and this vehicle can keep up with its adjustable features.
After the ride is over, there's no need to hassle over storage space. This vehicle comes equipped with vertical storage capability!
What We Like
Ages 8+
All weather capable
Rear suspension with coil shock
Vertical storage capability
Highlights
This ATV for older kids is appropriate for ages 8 and above. It is a great starter all-terrain vehicle since it only reaches a max of 8 miles per hour, and lasts for 40 minutes before recharging is necessary. It comes with adjustable handlebars to grow with your child until they reach 120 pounds. Store vertically once riding is done.
4.
110cc ATV Four Wheelers Quads for Kids
Not only is this one of the best ATVs for kids, but it comes in your choice of 5 patterns (spider black, black, pink camo, green camo, spider red). So, whether you have a girl or boy who wants to ride an ATV, he/she will have a fun time picking out which choice works best for him/her. When you buy this ATV from ICEbear, you're getting a reliable all-terrain vehicle made for kids 12 and above.
Not only does this machine come with fun themes that kids will love, but it comes with safety features that will help appease concerned parents. There is a parental switch that you can shut off the vehicle up to 20 feet away. Plus, it only runs up to 30 mph, but you can program the speed governor to max out the speed at 5 mph.
Keep in mind that this ATV, unlike the others, runs on gas. It also comes 80% assembled, so after you put on the handlebars, tires, battery, and rack, be sure to have a professional check it out. One more thing to consider is that this model does not have a reverse action, but that shouldn't stop your child from living his/her best life on this ATV!
What We Like
5 fun designs
Speed governor
Remote start/stop
Front & rear brakes
Highlights
These ATVs for kids are a top choice if you are a parent who likes to have safety control over your children. With a remote start/stop function, you can help facilitate your child's riding behavior. There is a also a speed governor to limit how fast your child can ride. With 5 different themes to choose from, you and your child can make this machine more customizable to your personalities.
To get younger children introduced to outdoor toys with wheels, check out the best balance bikes for kids!
5.
125cc ATV Quad Youth 4 Wheeler Adults ATVs Quads
Brought to you by Moto Pro, this youth ATV boasts 125cc with automatic transmission and reverse function! Younger users can really get the feel of having a powerful sports vehicle underneath them while they course along bumpy and windy dirt paths. The large tires (19.8″ front/18.9″ rear) help stabilize this powerful ride, so your child can have a smooth, comfortable experience. Plus, your child gets to choose between four bold colors (orange, yellow, black, pink) to suit his/her personality!
Ideally for kids 10-14 years old, this ATV can go up to 35 miles per hour, depending on terrain and rider dimensions. But, with measurements at 55.5″ L x 39.8″ W x 38″ H, there is plenty of room to accommodate a range of heights and weights, but we wouldn't recommend heavier than 100 pounds. Front tail lights help navigate dark paths, while the front drum and rear disc brakes enhance quick stopping power.
As a bonus, this gas powered machine can be registered in the state of California, where others may not be. You'll find this ATV comes 70% assembled, so make sure to have a professional mechanic complete the setup. The handle bar brackets, wheels, racks, rear shock, and battery will have to be assembled before use. The great part: there is a 30 days warranty on defective parts!
What We Like
4 color choices
Reverse gear
Up to 35 mph
Gas powered
Highlights
Your child will feel like a true professional when he/she hops on this ATV for older kids. Built for ages 10-14 with a max weight of 100 pounds, kids can cruise along up to 35 miles per hour. This is a gas powered vehicle with a battery start/stop. Features include 4 color choices, reverse gear, headlights, and a rear shock system.
Buyer's Guide for ATVs for Older Kids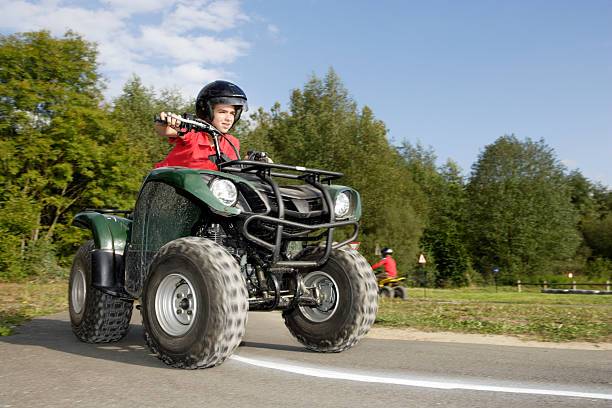 Age & Weight Limits
When debating between which ATV to get your child, you must first look at the age and weight limits of each vehicle. Some ATVs are made for children as young as 8 years old, but others are better suited for teens and adults. If built for younger children, the ATV will have a lower speed limit, while the seat and handlebars are manufactured for smaller bodies and lower weights. Those made for older children will go faster with a larger engine. Look for a higher "cc" number for faster vehicles.
Speed & Safety
ATVs made for older children will be produced with larger engines; therefore, they will drive faster. When shopping for ATVs for teens, look at the number of "cc" of the engine. The larger the number, the more powerful the engine, and the faster the vehicle will drive. Another feature to look for is if the ATV has a governor on the speed. When one is present, an adult can adjust the max speed of the vehicle, making is safer or more daring for the rider.
Parental Controls
Depending on what type of guardian you are, you may want to have more control over the ATV that your child is riding. If you fall under this category, look for an all-terrain vehicle with parental controls. One is the speed governor mentioned in the paragraph above. Another is having a remote control where the supervisor can start and stop the ATV from a remote position. If this is something that interests you, be sure to check the distance at which the remote will work too.
Power Source & Design
Of course, different models of ATVs for kids have different designs. If aesthetics are important to you or your child, choose a model where you can pick which color or pattern you want for your ATV. ATVs are no longer made with simple black characteristics; there are now vehicles with camo designs, spider web themes, or vibrant colors like yellow, orange, or pink. Once you choose the color of your liking, check into whether your ATV is battery or gas fueled. One is not better than the other. It is simply a matter of personal preference.
Conclusion
ATVs for older kids are a great way to get children motivated to get outdoors. They produce a thrill for kids, but still come with safety features to put parents' minds at ease. With a plethora of color choices, sizes, speeds, and features, there is sure to be an all-terrain vehicle that fits your child perfectly.